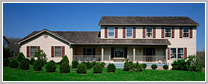 Starfleet Realty...
is the premiere real estate firm specializing in the greater Los Angeles area. Whether you are buying or selling or just testing the market, we are the ones for you.
At Starfleet Realty, our prime derective is to provide state of the art customer Service. We believe in the beauty of the human spirit and we are firmly committed to treating everyone with respect and dignity. If you have been soured on the real estate market by companies that treated you more like a "necessary nuisance" then you have found the right place.
Our owner and broker, D.J. Suite (DJ@starfleetrealty.com) has created a company that provides a quality real estate experience that you will rave about. One day, all real estate companies will realize that people do not want to be pressured, people are smart and know what they want, and that patience is paramount when helping people make one of the biggest decisions of their lives.
Although it is a big planet, we will help you find your place in it.